SIGNS & INDICATORS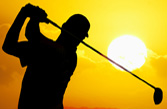 As you age, testosterone production is known to drop by 1-2% each year. It's a natural process in men that can lead to decreased physical performace and lower energy levels.
If you're feeling less drive and motivation, lower energy levels, less results at the gym or even lower sexual interest, Progene's unique dual action formula might be able to help you get back what you've lost.
Are you experiencing lower levels of testosterone?
Testosterone is a key hormone produced by the body. It helps to:
- Support and maintain muscle tone and mass
- Regulate metabolism and energy levels
- Stimulate drive and motivation as well as sexual interest and function.

As each year passes, you will naturally lose 1-2% of your ability to produce testosterone.In any given year, you might not notice the decline, but after 10-20 years, the total loss can be substantial.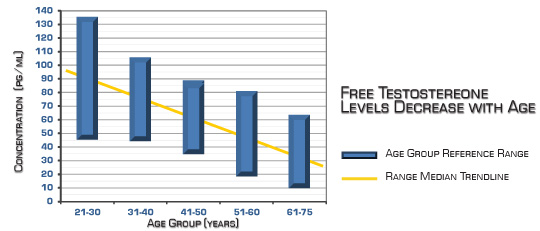 Testosterone Reference Ranges (see chart for graph)

| Age | Range (pg/mL) |
| --- | --- |
| 21-30 | 47.2-136.2 |
| 31-40 | 46.8-106.8 |
| 41-50 | 36.5-89.0 |
| 51-60 | 19.1-82.7 |
| 61-75 | 12.2-68.6 |
---
SIGNS OF "LOW T"
Compared to when you were younger are you:

- Feeling less energy or strength
- Observing more body fat and/or that it takes longer to trim down?
- More depressed / moodyness / less drive & motivation?
- Feeling less excited, less passionate about things and activites in your life?
- Able to maintain erections for as long as before?
- Seeing reduced sex drive / less sexual activity?

If you answered yes to any of the above, you may have lower levels of testosterone than you had before.Progene can help restore what aging has taken away. Progene provides your body the key ingredients it needs to produce more testosterone. Before jumping to a costly prescription or synthetic solution, address this natural decline with a natural alternative.
Try Progene today- risk free with our money back guarantee. If it doesn't work, prescriptions will always be a secondary option.